Any family has its own customs and traditions. The most important and delicious among ours is Baking Sunday. First Mother used to bake some fragrant pastry by herself for only one reason – relaxation (strange though it might sound). Then, about half a year ago, I joined her to find out that this kind of things does comfort and help collect my thoughts. So, today I am going to show you that baking is not only a scrupulous process but also a great hobby to express your creativity.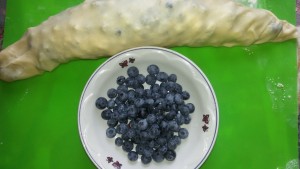 This Sunday my mum and I enjoyed baking something very special – Los Dragones (Spanish – dragons; see below for the explanation), blueberry strudels. Actually, blueberries are not the point. You may use cherries or other berries as well. The thing is I am really in love with blueberries. And as I was lucky enough to have them that day, the choice was obvious. To tell the truth, we were not going to bake "dragons". Ordinary strudels were our original goal. However, when they were ready for oven, my foreign-languages-school nature made itself felt. On seeing our "creature", the recently read Spanish legend Sant Jordi y El Dragón (Saint George and the Dragon) came to my mind. Just look at it! Does not it remind you of a reptile?
Two grapes were fetched, and that is how Kesha was born. Sweet, isn't it?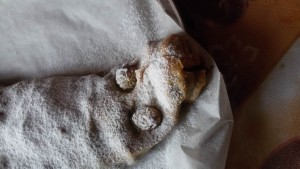 The recipe follows. Don't be afraid of your imagination, read and bake with love, because this is the main secret of good pastry!
---
Los Dragones (for 2 strudels)
Ingredients:
1 egg
Pinch of salt
50 g – oil (olive/grape seed oil)
100 ml – cold water
25 ml – cognac
185-200 g – all-purpose flour
3 g – baking powder
800 g – blueberries
100 g – ground vanilla rusks
32 g – vanilla sugar
40 g – unsalted butter
100 g – icing sugar
4 grapes
Steps:
Mix 1 egg and a pinch of salt. Then add oil and give it a good beat.
Add water and cognac to the mixture and beat again.
Sift flour into the batter, add baking powder. Mix it properly to get the dough not sticking to your hands. Keep in mind, it should not be tough still!
Cover the dough with food wrap and put into the fridge for 60-90 min.
Get a half of the dough. The other put back. Roll out the first piece as thin as possible. Then raise it carefully and stretch it with your fists gently. As a result, you should get the dough as thin as papyrus.
Heat the oven to 180-200° C for the pastry not to dry when it is formed.
Put half of the berries, ground vanilla rusks (you'd better make them by yourself of the French Bakery baby baguette), vanilla sugar and a bit of icing sugar. Roll it up.
Cover the tray with baking paper. Lay out the dragon and butter it.
Bake for about 25 min.
Dust with icing sugar.
Can be served either hot with a scoop of ice-cream or cold.
Defeat the dragon yourself! And enjoy the meal!